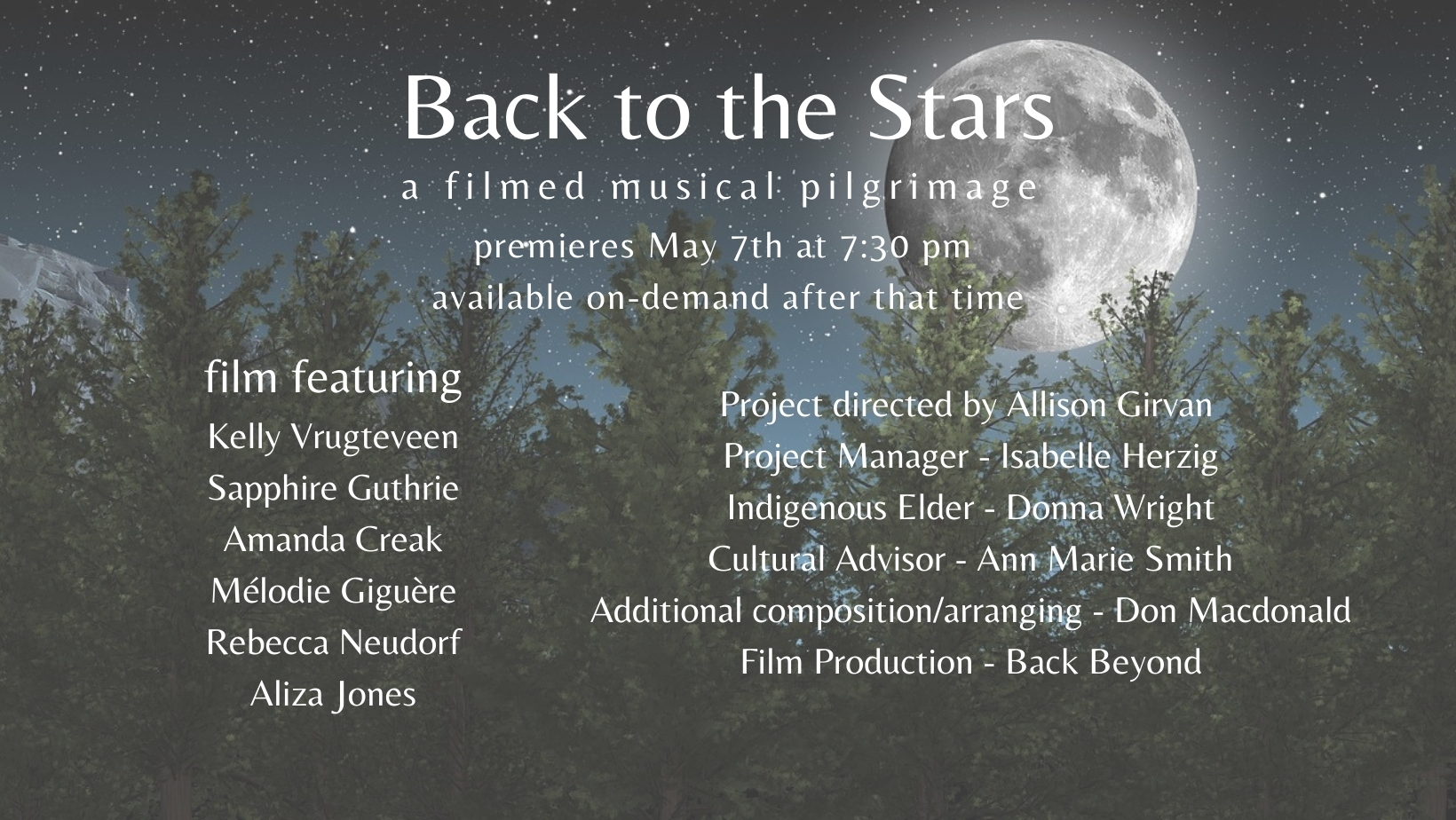 Please click the link below to watch the film starting on May 7th at 7:30 pm or any time after that.
This will be best viewed on the largest screen possible.
Because of the nature of this musical offering, we strongly urge you to use headphones or good speakers to fully experience the care that went into the crafting of the audio.
"Back to the Stars" is a filmed musical pilgrimage recorded on the ancestral and unceded territory of the sn̓ʕayckstx Sinixt Arrow Lakes and Yaqan Nukiy Lower Kootenay Band peoples which is also home to the Métis and many diverse Indigenous persons.
The young women involved in this project under the direction of Allison Girvan are settlers who embarked on an intentional journey to unlearn colonial narratives, learn what was omitted in colonial 'Canadian' history and integrate a learning of Indigenous connection to land with the guidance, grace and wisdom of local Indigenous leaders – Ann Marie Smith and Elder, Donna Wright – and then express the experience through songwriting and poetry.
Despite the challenges of a pandemic year, these six young artists found ways to support each other, collaborate and ultimately record their contributions at home to pass off to Don Macdonald whose mastery of film composition and arranging is the perfect match for these touching, thought-provoking and beautifully crafted songs and poems. Documentary artist, Rio Mitchell, and videographer, Danny Cox, are able to reflect completely the narrative of the path from individual to that of connection with each other and our natural surroundings in this 30 minute film that stirs the soul.
Featuring:
Kelly Vrugteveen
Sapphire Guthrie
Amanda Creak
Mélodie Giguère
Rebecca Neudorf
Aliza Jones
Project directed by
Allison Girvan
Project Manager – Isabelle Herzig
Indigenous Elder – Donna Wright
Cultural Advisor – Ann Marie Smith
Additional composition/arranging – Don Macdonald
Film Production – Back Beyond
BACK TO THE STARS – VIEWING
Please visit this page on May 7th at which time you will see a link to view the film here.